Greetings from the founder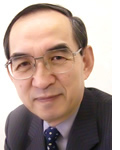 The founder: Masayuki TSUIKI

In 1970, we entered the Japanese language education business and have played a large role in livelihood support for foreigners, who have rapidly increased with the internationalization of Japan. Recently, IAY provides "business Japanese language lessons" for university students who aim to get a job in Japan commissioned by the Ministry of Economy, Trade and Industry, and "Japanese language education necessary for daily life" for foreigners living in Japan commissioned by the Japanese Agency for Cultural Affairs.
I would like you to realize your dream at IAY, which has 40 years of experience in language education.
I have also experienced studying abroad in Germany and had a lot of trouble and difficulties there. However, encounters with valuable people gave me a dream and confidence. I like the saying that "Seeing is believing." I would like you to indulge in your curiosity.
All of our teachers are well experienced and professional in Japanese language education. They are also interesting, cheerful and very kind. Life at IAY will provide food for your life.
I'm looking forward to meeting you in Sapporo, a city with beautiful scenery all-year-round.
Profile
Councilor of Association for the Promotion of Japanese Language Education
Executive board member of the Japanese Language Teachers Educational Council
Executive board member of the Japan Association for the Promotion of Foreign Language Education
Honor president of the Japanese Language School of the Japanese Cultural Society in Singapore
Guest professor of the Inner Mongolia Normal University of China