Daily life and future course after graduation
We will provide full support to students who are studying hard. Almost 100% of graduates except returnees advance to higher institutions. We have a reputation for detailed guidance. Many graduates have gotten a job in Japan after graduation from a university by making use of Japanese language ability or their own special skills. In the library, you can browse a variety of resources on universities.
Example of university admissions
Graduate schools
National and public: Hokkaido University, Otaru University of Commerce

Private: Hokkai-Gakuen University

Universities
National and public:

Hokkaido University, Sapporo Medical University, Otaru University of Commerce, Hokkaido University of Education, Muroran Institute of Technology, University of Tsukuba

Private:

Hokusei Gakuen University, Hokkai-Gakuen University, Sapporo University, Sapporo Gakuin University, Dohto University, Hokkaido Bunkyo University, Hokkaido Information University, Hokusho University, Takushoku University, Komazawa University, Doshisha University, Tokyo International University, Nishogakusha University, Osaka University of Economics, Nagoya Sangyo University, Wakayama University, etc.
Junior colleges, professional schools, etc.
Guidebooks for universities in the library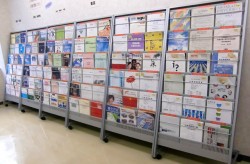 Teachers or student guidance staff provide consultation for students with students' native language at any time.
Student advisor
Student advisor : Baigule
Hi, everyone. My name is Baigule and I'm a student advisor for Chinese speakers.
I come from Inner Mongolia. As a former graduate student in Japan,
I would like to share my experiences with you,
especially with those who wish to proceed to an institute of higher learning.
It is important for you to set a goal for learning the Japanese language at IAY and just go for it.
I sincerely hope you make your dream come true!
Student advisor : Tran Tu Ngoc
Hello, everyone! My name is Tran Tu Ngoc from Vietnam.
I studied at IAY last year and now am a student adviser for Vietnamese students. New Vietnamese students may come across lots of difficulties besides language barriers and unexpected expenses. Personally, I would recommend preparing 8 months' tuition and living expenses before coming.IAY is the best place for students to learn Japanese. The teachers are always very helpful and we are always there if you are in trouble. Studying abroad is a turning point in your life. Think about your life, and? see what you want to do by taking the time. If you decide to study abroad in Japan, we are willing to help you! Thank you!
In addition, other Japanese teachers and staff will support you.
When you want to have a part-time job (Student visa course students only)
After you arrive in Japan and get accustomed to life in this country, IAY issues you a permit to engage in a part-time job. After applying for permits to engage in a part-time job and getting permission from the Sapporo Regional Immigration Bureau, you can have a part-time job legally. Working hours are up to 4 hours per day and 810-900 yen per hour.
When you want to apply for a scholarship
Privately-financed International Students
You can apply for the "Honors Scholarship for Privately-financed International Students" sponsored by Japan Student Services Organization (JASSO). IAY selects recommended students on the basis of attendance rate, academic achievement, classroom attitude and an interview, and commend them to JASSO.
Example of living expenses
Living
Living expenses are approx. 30,000-50,000 yen per month including meal expenses (exclude housing cost). There are many supermarkets in which foods and daily necessaries are offered at a reasonable price.
Going to school
Most students come to school by bicycle within 10-15 minutes.