Regular Courses
The courses are for those who hold a valid visa for short-term stay such as tourism, dependent visa and working holiday visa, and wish to learn Japanese intensively or as short-term foreign students. A wide range of courses are offered throughout the year. We will help you to choose the best course to meet your level and goals!
Summer Intensive Course
Students can enjoy learning daily Japanese conversation by following the IAY original curriculum. Small groups between 3 to 10 persons.
Learning through communicative and practical methods with well-balanced "Input" and "output" exercise, students can develop one's abilities even for short-term. A variety of supervised activities such as Japanese cultural programs, field trips near the school and Japanese exchange are prepared. Enjoy conversation using Japanese you've learned in class.
IAY is located in the center of Sapporo City, within a one-minute walking distance of the site of the YOSAKOI SORAN Festival and the Sapporo Summer Festival , convenient for sightseeing and many places suitable for interacting with locals.
☆☆☆ summer-course-student-report ☆☆☆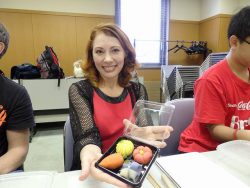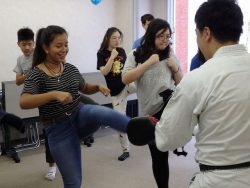 We are very sorry, but the Summer Intensive Course 2023 will not be held. For your reference, the content for 2019 is listed below.
Lesson Contents
Beginners'-advanced level
Schedule    Activities
Period
From Jul.8(Mon.) to Aug.2(Fri.) ※ 4 weeks
・3 lessons per day, 45 minutes each (No classes on Saturdays, Sundays, or national holidays)
・9:40a.m.~12:05a.m.
Fixed number
10 students in one class (minimum student count: 3)
We will stop accepting applications once all the places are taken.
Tuition
・1 week  30,000yen
・2 weeks 53,000yen
・3 weeks 76,000yen
・4 weeks 97,000yen
Sign-up fee
20,000yen
Textbooks
Retail price of the textbook (approx. 3,000 yen)
Students who already own "Minna no Nihongo" may bring it with them.
Staff-supervised field trips
Lunch is borne by students.
Certificate of completion
Receive a certificate of completion with a specified attendance rate and level
Application form
Course application form
Activities application form

Private Lesson
IAY offers a full range of private lessons to meet your Japanese learning objectives. We also provide small group lessons. We can arrange a class for you and your friends and family – the shortest way to improve your ability intensively, effectively and steadily.
Ideal for students who wish to learn kana or kanji, or to improve their academic or business Japanese, our experienced teachers tailor the lessons to suit your level. IAY can prepare a lesson schedule and text to match your learning needs. Please contact our coordinators to start your private lessons today!
One to one
For 2 students
(per person)
For 3 students
(per person)
Sign-up fee
Tuition
(1 lesson)
45 minutes
Sign-up fee
Tuition
(1 lesson)
45 minutes
Sign-up fee
Tuition
(1 lesson)
45 minutes
8~10
lesson
10,000 yen
5,300 yen
10,000 yen
4,300 yen
10,000 yen
3,600 yen
11~50
lessons
10,000 yen
4,200 yen
10,000 yen
3,200 yen
10,000 yen
2,500 yen
51~ lessons
10,000 yen
3,900 yen
10,000 yen
2,900 yen
10,000 yen
2,200 yen
Note
・ You can reschedule a private lesson before 3pm the previous working day.If we receive notification after 3pm the previous day, or not at all, the lesson will still be charged.

・ All students in a lesson must have the same level of Japanese.

Please submit your application together.

・ Teachers are available for home lessons.

Please contact us for details of teacher's expenses and transportation fees.

Application form

Download here. (pdf)
Transfer Course
Students can experience a short period of study abroad! Taking 4 lessons every day from Monday to Friday in the "student visa course" and learning reading, grammar, listening comprehension and conversation skills equally. Your international classmates are waiting for you!
Students take placement tests to decide the class suitable for their skills; There are three different levels: Beginner, Intermediate and Advanced. Those who have a "Dependent's Visa" or "Spouse of a Japanese National visa", or who are "Permanent Residents" can continue to study up to two years.
student-report
★★★ Click Here ★★★
Lesson contents
Beginners' – advanced level
・Classes for intermediate or advanced levels include hours for prep for the Japanese Language Proficiency Test (JLPT) and the Examination for Japanese University Admission for International Students (EJU).
Details (Click Here)
Number of students
20 students in one class
Sign-up fee
10,000yen


・Students who are applying for the pre-college student visa are exempted from the fee.

Tuition
10 weeks: 185,000yen
Bulk Discount
・Receive a 5% discount on tuition when paying for a whole semester at once
・Those who have a "Dependent Visa" or "Spouse of a Japanese National Visa", or who are "permanent resident" can get a special discount. Please contact us for details.
Date
4 lessons per day from Monday to Friday (One lesson is 45 minutes) (No classes on national holidays)
Time
【Morning class】 8:50-9:35, 9:40-10:25, 10:35-11:20, 11:25-12:10
【Afternoon class】 12:50-13:35, 13:40-14:25, 14:35-15:20, 15:25-16:10
・You have no choice about the class. The class is decided by the level of your Japanese language ability.
Annual schedule
日本語学科カレンダー (2023普通科).pdf
Textbooks
Actual fee
Regulations of class
Regulations of class ( PDF )
Application form

※Please input letters or characters on the computer after downloading.


Download here. (pdf)

Admission procedure
(Please read the regulations of regular courses before applying.)
Fill in necessary items in the application form and send it to us by e-mail, Fax or mail with a copy of your passport and a portrait photo. (No need to send a passport copy for applicants who have Japanese nationality)
Applicants must apply 4 – 8 weeks prior to the opening date of the desired course. (The deadline differs depending on nationality. Refer to the regulation for details.)
Receive a confirmation mail from IAY within a week.
IAY sends an invoice upon completion of procedures including accommodation arrangements.
Pay full amount necessary for enrollment into the bank account designated by IAY. Remittance charges must be borne by students. In the case of students who live near IAY, payment at reception or a credit-card payment is available.
Receive entry permit, receipt, accommodation guide, and other documents from IAY.
Enter IAY.
Click here for downloading IAY regulations (regular courses).